Fashion is like music. It is a singular word that holds a limitless amount of meanings. As a result, both mean something different to us. Like music, fashion has many genres. They do not appeal to everyone. What fun would that be? If fashion did not have many genres, the world would be one big solid colored blob. It doesn't have to be gray, but seeing everyone in the same thing would take away identity and personality. Both are important, they are what separates I from We. Our taste, can unify us with others or put us in a class all our own. Regardless, all fashion genres should be given the opportunity to display themselves. As a result, I am pleased to introduce you to Aqua Red.
 Aqua Red is an Illustrated Brand Apparel I found on Storyenvy. Storyenvy is an excellent site filled with unique stores. When I clicked on their store front, I loved it. For those of you who do not know, I love anime and street art. It's sharp, colorful and in your face. It's hard not to notice their eye-catching logo. From one angle, it looks like a skull with a bandage. At a second glance, it looks like a mushroom with a wound. When developing a brand, it is important to design something that separates and distinguishes you from the crowd. Aqua Red pulled it off, they sell many products with this logo. However, there is more to them then this clever little guy. They also sell graphic t-shirts, hats, and accessories for men and women. All of which bare unique designs and range from $0.99 to $32.00. In addition, this brand understands the importance of evolution. In effect, old stock is clearly separated from new arrivals. This creates a sense of urgency and let's the shopper know the item will not be reproduced. This attention to detail and consideration for their customers led to this interview with Aqua Red's creator!
Trisha: Hello Myke! Thank you for taking out the time to talk to me about your brand today. I have a few questions for you. So, let's get started with my first question. What does Aqua Red mean? 
Myke: Coming outta high school, I was an art major with a high ambition to live up to my grandfathers passed down artistic talents. After several years college, I never found that niche to make it out of starving artist. So I tried going to pharmacy to become involved in medicine. After seeing no passion in the field, I felt that destiny was calling him to reform his portfolio. I decided to give it a name. During a color theory lesson about the color purple, I named it Aqua Red. Meaning to bring two opposites together, to expect the unlikely. In the summer of 2007, I looked into fashion and saw the world of street apparel I grew up with. I kept seeing brands coming out with either super colorful designs, or just simply boring labels. I wanted to find that happy medium and share his creative imagine with people on a daily basis. So he made aqua red the apparel brand.
Trisha: Wow, Myke had an interesting past. Seems like, we tend to stray from the things that make us happy. Somehow, we find out way back to them If you could describe your brand in three words and why did you choose those words?
Myke: Silly. The concepts of cartoons has always caught the attention of the young at heart. Mixing funny, outlandish characters make almost anything a childhood theme, but not too childish.
Stylish. As all apparel is worn, they must have a sense of fashion and style. Aqua Red brings forth the style of street culture but highlights mainly on its own concepts. Combined with all American made tees, Aqua Red brings comfort, attitude, style, and quality to the table of indie apparel.
Unity. The family of friends we're bringing together is the crowd that loves to laugh, loves to have fun, and knows that life is too short to dwell in an adult-serious world. Our attitude is to be unique in who you are and stand out from the rest and have fun doing it. "We weren't built the same, why should we live the express ourselves the same!"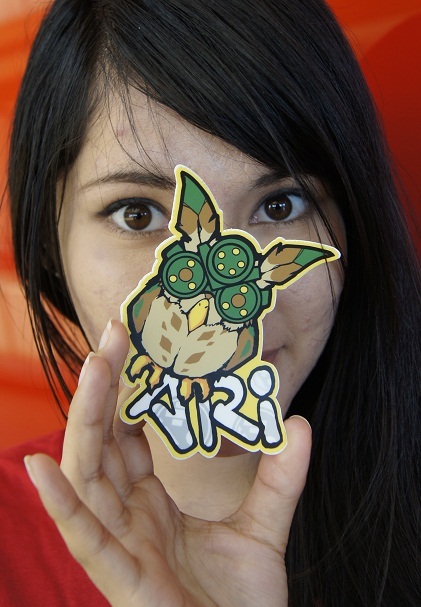 Trisha: Nice choices! These three words definitely represent your brand. Personally, I love graphic-ts and the outlandish accessories you  sell. Brands like this are refreshing because fashion is more than yearly trends. By the way, When was your brand created?
Myke: Aqua Red was created as concepts and was established back in Summer 2007. We went live with an apparel brand in Spring 2010.
Trisha: I see, time and patience went into your brand. Do you run Aqua Red by your self or do you have a team of people running it?
Myke: Aqua Red started as a single artist but when it became a brand, it took in a lot more than just fans of drawings. With over 50 different spokes models, personalities, and operators, Aqua Red is a network of friends ready to spread with the love of the culture as well as the art and fashion. But when it comes down to the core circle of friends, the boardroom consists tightly of Elise, Drew, and Jason. These friends have been through a lot, and long before the idea of spreading a brand. They are ready to take Aqua Red beyond the next level.
Trisha: Myke that is really impressive. One thing people need to realize is team work is essential to building a successful business. As it grows, it is difficult to do every little thing alone. I'm glad you have a core circle as well as a large diverse of people to assist with your brand. What type of items do you sell in your store?
Myke: Aqua Red was made as a statement that can be conveyed without words through fashion. That statement is shown primarily on-screen printed American made crew neck tee shirts. The symbol of the brand is also represented on embroidered fitted and snap-backed caps. Featuring graphics on stickers, pinback buttons, and prints, the style won't end at apparel. Some select items such as jackets, device skins, arm warmers were featured rarely for the enthusiastic collector of the brand. Keep a sharp eye out for those.
Trisha: Thank you for the heads up, Myke. Last time I stopped by, I didn't see these exclusive items. Hopefully I'll catch them next time. By the way, what is your personal style?
Myke: My personal style is pretty simple but I'm definitely no bore. We I get to talking about what I'm passionate in, one can really feel the energy. But I wouldn't consider myself the whole life of the party. When I look for fashion in the saturated market, I want to find the unique clothing that suits me. Not the hot trends that some folks blindly pay for. I try to find that one special pair of jeans with the highlights (wear-out, washburn, even holes) but they have to be at least comfortable. I don't want friends to be suffering through fashion
Trisha: Good point, fashion doesn't have to be uncomfortable. Thank you Myke for taking out the time to discuss your brand. I look forward to future articles about your pieces. Have a great day!
Want to know more about Aqua Red? Check out their blog! They're also active on Twitter, Pinterest, and Facebook!